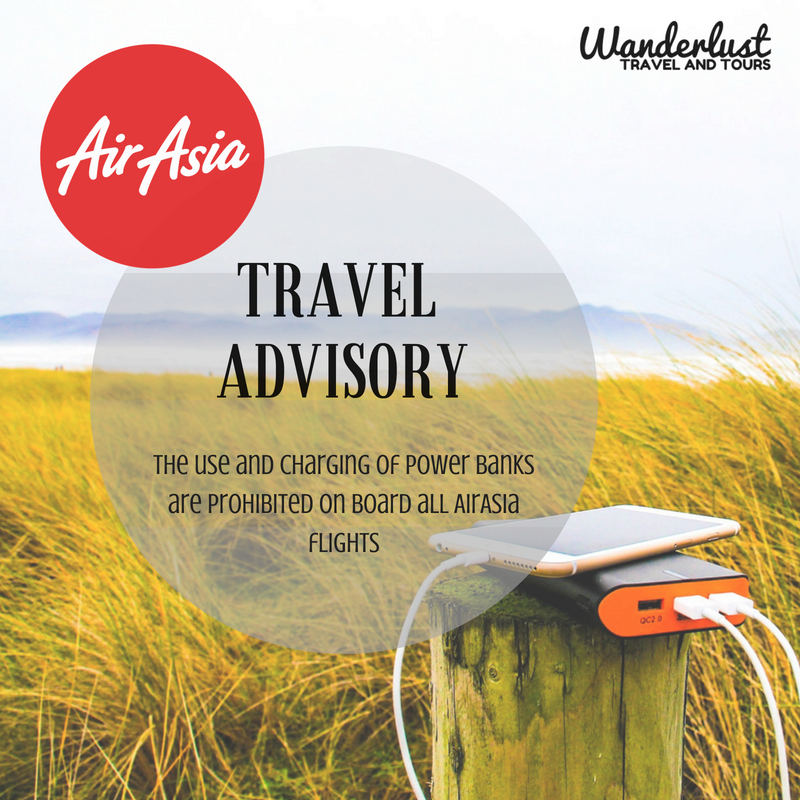 With immediate effect, the use and charging of power banks are prohibited on board all AirAsia flights.
What is a Power Bank?
A power bank is a portable battery charger used to recharge lithium-ion batteries contained in equipment such as a mobile phone/tablet. A power bank is considered a spare lithium battery.
As lithium batteries contain stored energy and pose hazard leading to overheating and possible fire or explosion when transported by air, when carried as cabin baggage the following must be met:
For lithium metal batteries, the lithium content must not exceed 2g
For lithium-ion batteries, the Watt-hour rating must not exceed 100 Wh
CHECK-IN PROCESS
Apart from asking passengers to read the mandatory security questions in the Security Notice, during check-in, ask the passengers if their checked baggage contains a power bank. If YES, it must be carried as cabin baggage and the below process will apply.
Important: Spare lithium batteries are NOT allowed in checked baggage.
CABIN BAGGAGE
As power banks use lithium batteries, the following process will apply: Terminals of all spare lithium batteries placed in cabin baggage must be protected from short circuit by:
1. Enclosing them in their original retail packaging or
2. Taping over exposed terminals or
3. Placing each battery in a separate plastic bag (or protective pouch)
In the event a cabin baggage is offloaded due to insufficient cabin space, ground staff or cabin crew must advise passengers to remove the power bank which must be insulated.
Each passenger is limited to a maximum of 02 spare lithium batteries for personal use only. Lithium batteries must not exceed the allowable quantity and size limitations.
Categories: None